Terça-feira, 20 de Maio de 2008
A válogatás második korongja.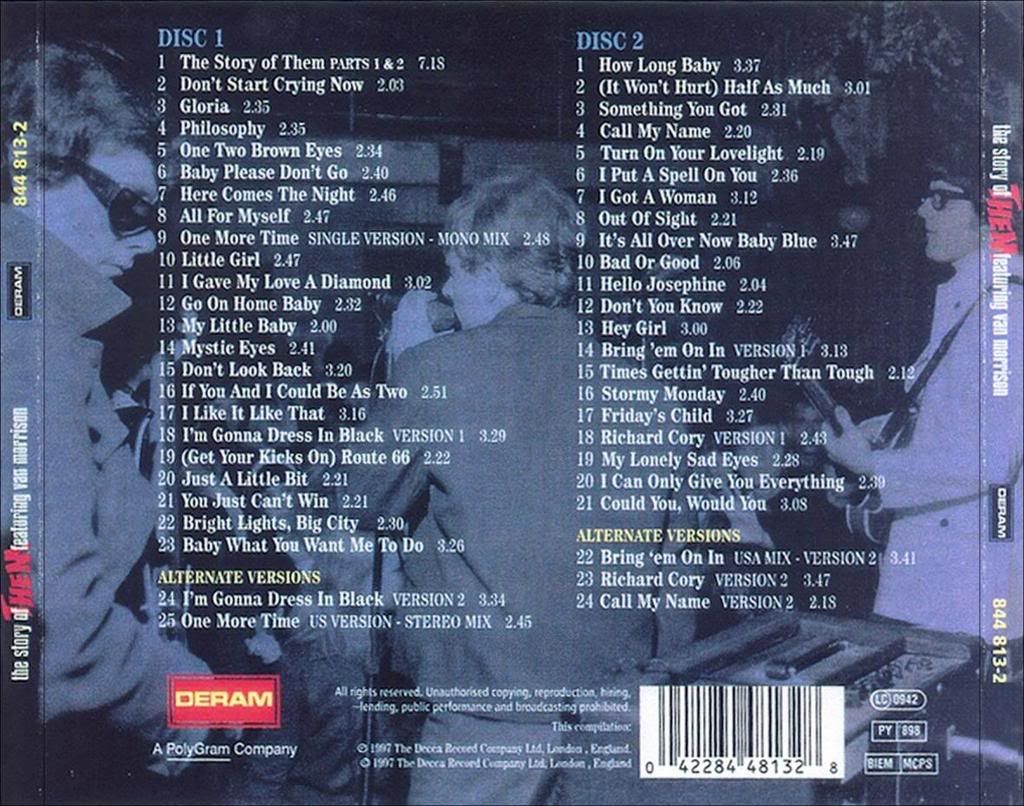 Tömörítés/Bitrate: 224 kb/s
Letöltés/Download:
[ Uploaded Part1 Part2 ]
[ 1-click-upload Part1 Part2 ]
Jelszó/Password: levente
Domingo, 18 de Maio de 2008
1966. Akkor voltam 15 éves, és felvettek a technikumba. És csodálatos zenékkel volt tele az éter.
Délutánonként a Szabad Európa rádiót hallgattam, esténként a Luxemburgi Rádiót, és vasárnaponként Komjáthy Vasárnapi koktél című műsorát. És természetesen vadul (és tehetségtelenül) szaggattam a húrokat én is.
És ebben az évben jelent meg a zseniális Van Morrison vezette Them együttes Them Again című albuma is.

Tömörítés/Bitrate: 256 kb/s
Letöltés/Download:
[ BinLoad ]
[ Gigasize ]
Jelszó/Password: levente
Quarta-feira, 30 de Abril de 2008
Korábban többen hiányolták már a kuckóból Van Morrison pályafutásának kezdetét - a Them együttest - bemutató dupla válogatásalbumot.
Hát most itt az első korongja.
Csak annyit fűznék hozzá, hogy nagyon szeretem Van Morrison zenéjét (is).

Terça-feira, 15 de Abril de 2008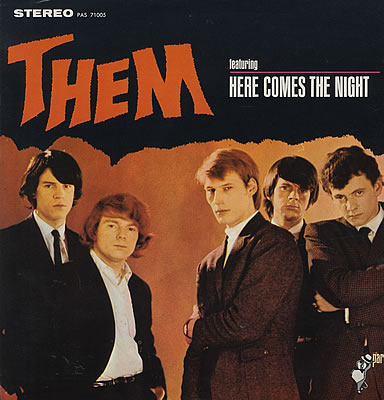 Van Morrison zenekarának 1965-ös albumáról több felvétel is megjárta a slágerlistákat, teljes joggal.
A számok:
01. Here Comes the Night - 2:45
02. Mystic Eyes - 2:41
03. Don't Look Back - 3:23
04. Little Girl - 2:21
05. One Two Brown Eyes - 2:39
06. Gloria - 2:38
07. One More Time - 2:47
08. If You and I Could Be as Two - 2:53
09. I Like It Like That - 3:35
10. I'm Gonna Dress in Black - 3:34
11. Route 66 - 2:22
12. Go on Home Baby - 2:39
Tömörítés/Bitrate: 320 kb/s
Letöltés/Download:
[ Data]
[ Binload ]
Jelszó/Password: levente
Domingo, 23 de Março de 2008
Régóta készülök rá, hogy Van Morrison teljes munkásságát, azaz valamennyi albumát elkezdjem a kuckóba hordani, lehetőleg időrendben. Hát akkor kezdjük is a múlt század hatvanas éveinek közepén működött Them együttes első, eredetileg The Angry Young Them cammel megjelent albumával. 1964-ben Morrison 19 éves volt, s a Them élén egy Big Joe Williams dal, a Baby, Please Don't Go bemutatásával robbant be a zene és a slágerlisták világába. Morrison jónéhány sikeres dal és két album után 1966-ban elhagyta a csapatot és máig szólóban működik.
Mivel a Them igazi garázszenekarként kezdett, a lemez számai öt kivételtől eltekintve mono felvételek.

A kiigazításért külön köszönet PisSstának.
A dalok:
01. Mystic Eyes
02. If You and I could be as Two
03. Little Girl
04. Just a little Bit
05. I Gave My Love a Diamond
06. Gloria
07. You just can't win
08. Go on Home Baby
09. Don't Look Back
10. I like it like That
11. I1m Gonna Dress in Black
12. Bright Lights, Big City
13. My little Baby
14. (Get Your Kicks On) Route 66
Tömörítés/Bitrate: 320 kb/s
Letöltés/Download:
[ Rapidshare ]
[ Upload ]
Jelszó/Password: levente