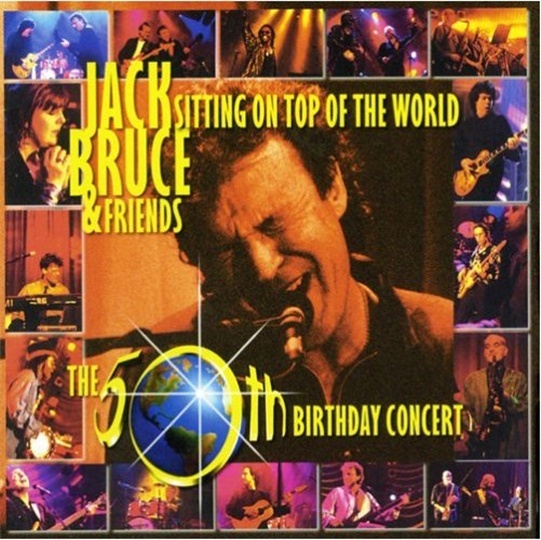 A Cream legendás skót basszusgitáros-énekese 1993-ban ünnepelte 50. születésnapját. Ebből az alkalomból barátaival egy laza örömkoncertet adtak.
A koncert résztvevői: Gary Moore (vocals, guitar); Jack Bruce (vocals, piano, bass guitar); Pete Brown , Gary "Mudbone" Cooper, Maggie Reilly (vocals); Clem Clempson (guitar); Malcolm Bruce (acoustic guitar); Dick Heckstall-Smith, Art Themen (saxophone); Henry Lowther (trumpet); John Mumford (trombone); Gary Husband, Jonas Bruce (piano); Bernie Worrell (Hammond b-3 organ); Francois Garny (bass guitar); Ginger Baker, Simon Phillips (drums).


A címadó dal, igaz nem ezen a koncerten:




A felvételek:
01. Can You Follow? - 1:58
02. Over the Cliff - 3:47
03. First Time I Meet the Blues - 4:39
04. Neighbor, Neighbor - 5:39
05. Ships in the Night - 5:02
06. Born Under a Bad Sign - 6:11
07. The from an Imaginary Western - 5:55
08. NSU - 6:28
09. Sitting on Top of the World - 6:51
10. Politican - 5:39
11. Spoonful - 9:13
12. Shunsine of Your Love - 8:11
Tömörítés/Bitrate: 320 kb/s
Letöltés/Download:
[ Uploaded Part1 Part2 ]
[ Ziddu Part1 Part2 ]
Jelszó/Password: levente
A skót csalogány 2002-es albuma.
A dalok:
01. Do You Really Want To Leave Me This Way
02. Forget About It
03. These Dreams
04. Goin' Back
05. Birds
06. True Colours
07. Save It For A Rainy Day
08. If You Leave Me Now
09. For One Kiss
10. Close Your Eyes
11. So Far Away
12. Angel Of The Morning
Tömörítés/Bitrate: 192 kb/s
Letöltés/Download:

[Rapidshare ]
[ Uploaded ]
Jelszó/Password: levente
Maggie Reilly-t mint a Mike Oldfield felvételein éneklő csodahangú lányt ismertem meg, s azt hiszem ezzel nem vagyok egyedül. Nem véletlen, hogy ezen a Best Of albumán is vannak Oldfield felvételek.

A dalok:
1. One Little Word (Album Version)
2. Everytime We Touch ('98)
3. Walk On By
4. To France
5. Listen To Your Heart
6. Brought Up To Believe
7. Moonlight Shadow
8. Little Boys Eyes
9. All My Heart Can Hold
10. Foreign Affair
11. Family Man
12. Don't Wanna Lose
13. Follow The Midnight Sun
14. Echoes
15. Wait
Tömörítés/Bitrate: 128 kb/s
Letöltés/Download
Jelszó/Password: levente
Az 1956-ban a Skóciai Glasgowban született
Maggie Reilly
-t Mike Oldfield 1980-84 között készült albumain közreműködő énekesnőként ismerhettük meg. Azóta dolgozott másokkal, többek között Jack Bruce-szal is, s 1992 óta szólóalbumai is megjelennek.
Első, 1992-ben megjelent
Echoes
című albumáról az Everytime We Touch című dal a slágerlistákat is megjárta.