Koko Taylor 1928. szeptember 28-án a Tennessee államban fekvő Shelby County-ban Cora Walton néven látta meg a napvilágot. Az ötvenes évek közepétől Chicagoban él, és elsősorban erőteljes hangja és hagyományos blues énekstílusa révén érdemelte ki a Queen of Blues címet. Kora ellenére mai napig igen aktív, évente több mint 100 koncerten lép fel.
Royal Blue című albumán vendégként közreműködött B. B. King, Kenny Wayne Shepherd és Keb" Mo' is.
A teljes stáblista: Koko Taylor (vocals); B.B. King (vocals, guitar); Keb' Mo' (vocals, National steel guitar, harmonica); Criss Johnson, Kenny Wayne Shepherd (guitar); Matthew Skoller (harmonica); Mark Colby (tenor saxophone); Johnnie Johnson, Ken Saydak (piano); Dolpha Fowler Jr. (organ); Kenny Hampton (bass); Kriss T. Johnson (drums).
The Tom Tom MMLXXXIV Horns includes: Jerry DiMuzio (alto saxophone); Willie Henderson (baritone saxophone); Larry Bowen (trumpet); Steve Berry (trombone).

A számok:
1.Save Your Breath
2.Hittin' On Me
3.Bring Me Some Water
4.But On The Other Hand
5.Don't Let Me Catch You (With Your Drawers Down)
6.Blues Hotel
7.Fuel To Burn
8.Man Next Door, The
9.Old Woman
10.Ernestine
11.Keep Your Booty Out Of My Bed
12.Keep Your Mouth Shut And Your Eyes Open
Tömörítés/Bitrate: 320 kb/s
Letöltésw/Download:
[ FileSend Part1 Part2 ]
[ Gigasize Part1 Part2 ]


Jelszó/Password: levente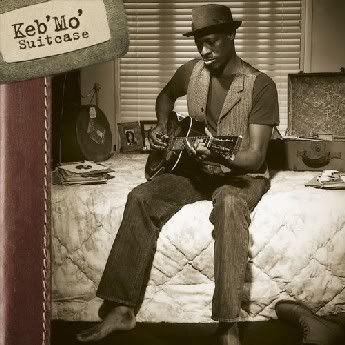 Kevin Moore 1951-ben született Los Angelesben, 12 éves kora óta gitározik, de
Keb' Mo'
művésznevén első lemeze csak 1995-ben jelent meg. Igaz ez a lemez azonnal az év legjobb akusztikus/country lemeze lett. Keb' Mo' country-blues stílusára a legnagyobb hatást Robert Johnson és Eric Clapton gyakorolta.
A kétszeres Grammy-díjas előadó nyolcadik albumának készítői:
Keb' Mo' - gitár, ének
Fran Banish - gitár
Jon Cleary - Hammond B-3, zongora
Paulinho Da Costa - ütőshangszerek
Steve Ferrone, Sergio González - dobok
Greg Leisz - Pedal Steel
Darrell Leonard - pozan, trombita
Reggie McBride - basszusgitár
Paul Oscher - szájharmonika
Joe Sublett - tenorszaxofon
Greg Tardy - klarinét
Your Love




A lemezen hallató dalok:


1. Your Love
2. The Itch
3. Eileen
4. Remain Silent
5. Still There For Me
6. Rita
7. I'm A Hero
8. Suitcase
9. Whole Nutha' Thang
10. I See Love
11. I'll Be Your Water
12. Life Is Beautiful
Tömörítés/Bitrate: 320 kb/s
Letöltés/Download
Jelszó/Password: levente