Sábado, 3 de Maio de 2008
A három gitárzseni a saját, és a mi örömünkre időnként készít közös felvételeket is. Ez is ilyen.
A számok:
01.John McLaughlin - Aspan
02.Al Di Meola - Orient Blue
03.Paco De Lucia - Chiquito
04.Paco De Lucia - Sichia
05.John McLaughlin - David
06.Al Di Meola - Passion, grace and fire
Tömörítés/Bitrate: 320 kb/s
Letöltés/Download:
[ Alldrives ]
[ spread.hubupload ]


Jelszó/Password: levente



Sábado, 2 de Fevereiro de 2008
Napok óta készülök arra, hogy egy John McLaughlin lemezt hozzak a kuckóba. Csak az volt a baj, hogy nem sikerült eldöntenem: melyiket. Most viszont Mano barátunk visszatért "tsavargásaiból", és mindjárt azzal kezdte, hogy küldött két számot: egy Paul Butterfieldet és egy John McLaughlint. És ezzel el is döntötte a kérdést. Miután a számokat felpakoltam a Wurlitzerbe, megkezdtem az 1995-ben megjelent After The Rain feltöltését is.
Mano kedvességét ezúton is köszönöm.
A lemez felvételeit készítő zenészek: John McLaughlin - guitar, Joey DeFrancesco - Hammond B-3 Organ és Elvin Jones - Drums.

Quinta-feira, 24 de Janeiro de 2008
Mano ajánlására került a kuckóba a Mahavishnu zenekar meghatározhatatlan műfajú lemeze. Leginkább talán fúzisós zenének nevezhetnénk a jazz, a rock, a klasszikus és a new age lenyűgözően gyönyörű elegyét. A zenekar tagjai: Carol Shive (vocal, violin); Philip Hirschi (vocal, chelo); Gayle Moran (vocal, keyboard); Ralphe Armstrong (vocal, bass); Naranda Michael Walden (vocal, drums, percussion); Jean-Luc Ponty (violin); Marsha Westbrook (viola); John Mahavishnu McLaughlin (guitars).
A Londoni Szimfonikuso Zenekart Michael Tilson Thomas vezényli.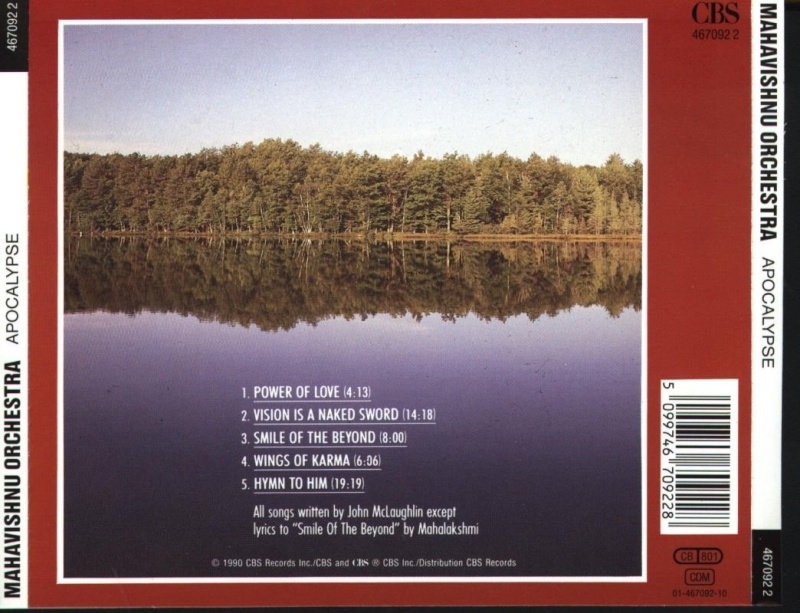 Tömörítés/Bitrate: 256 kb/s
Letöltés/Download:
[ Gigasize ]
[ ShareOnAll ]
Jelszó/Password: levente