Joe Pass 1978-ban egy remek, latin hangulatú albumot készített brazil zenészek közreműködésével: Joe Pass és Oscar Castro Neves - gitár; Octavio Bailly - bass; Claudio Son - drums; Paulinho da Costa - percussion és Don Grusin - keyboards.
A számok:
01 - Corcovado
02 - Tears
03 - Wave
04 - Voce
05 - If You Went Away
06 - Que Que Ha?
07 - The Gentle Rain
08 - Barquinho
09 - Luciana
10 - I Live to Love
Tömörítés/Bitrate: 192 kb/s
Letöltés/Download:
[ Uploaded ]
[ Uploadarea ]
Jelszó/Password: levente
A lemez felvételein Ella Fitzgerald és Joe Pass ritmushangszerek kísérete nélkül adják elő a dalokat.
Érdemes meghallgatni.
A dalok:
1.Speak Low
2.Comes Love
3.There's No You
4.I May Be Wrong (But I Think You're Wonderful)
5.At Last
6.The Thrill Is Gone
7.Gone With The Wind
8.Blue And Sentimental
9.Girl Talk
10.Georgia On My Mind



Tömörítés/Bitrate: 160 kb/s




Letöltés/Download:


[ Rapidshare ]
[ Uploaded.to ]


Jelszó/Password: levente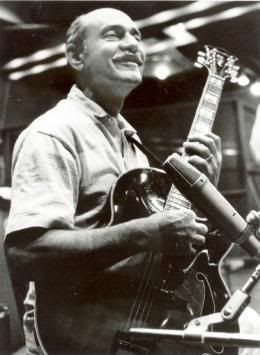 Joseph Anthony Passalacqua 1939. január 13-án született az USA New Jersey államában, New Brunswick-ban szicíliai bevándorló család fiaként. Édesapja vasgyári munkás volt, de támogatta tehetséges gyermeke zenei képzését.
Joe Pass
művésznéven 14 éves korában hivatásos zenész lett.
Igazából a hatvanas években fedezték fel, s ekkoriban a jazz legnagyobb egyéniségeivel készített közös felvételeket. Csak néhány név a sorból: Duke Ellington, Ella Fitzgerald, Count Basie, Dizzy Gillespie és Oscar Peterson.
1994-ben hunyt el.
Az
Unforgettable
című lemez anyagát 1992-ben rögzítették, és érdekessége, hogy valamennyi számot nylonhúros klasszikus gitáron játssza.
A felvételek:
1. My Romance
2. The Very Thought Of You
3. I Cover The Waterfront
4. Isn't It Romantic
5. Walkin' My Baby Back Home
6. Autumn Leaves
7. 'Round Midnight
8. I Should Care
9. Unforgettable
10. Don't Worry 'Bout Me
11. Spring Is Here
12. Moonlight In Vermont
13. April In Paris
14. Stardust
15. You'll Never Know
16. After You've Gone
17. I Can't Believe You're In Love With Me
Tömörítés/Bitrate: 160 kb/s
Letöltés/Download:
[ Divshare ] [ Upload66 ]
Jelszó/Password: levente
George Gershwin "népoperáját" 1935-ben mutatták be Bostonban. Talán nem nagy tévedés azt állítani, hogy a legtöbb átirat, feldolgozás ebből a zeneműből készült az elmúlt hetven esztendőben.
Ezen az albumon a jazz két nagy egyénisége,
Oscar Peterson
(kivételesen nem zongorán, hanem clavichordon) és a gitáros
Joe Pass
értelmezi az opera népszerű darabjait.
A felvételek:
1. Summertime
2. Bess, You Is My Woman
3. My Man's Gone Now
4. It Ain't Necessarily So
5. I Loves You, Porgy
6. I Got Plenty O' Nuttin'
7. On, Bess, Oh Where's My Bess
8. They Pass By Singin'
9. There's A Boat Dat's Leavin' Soon For New York
10. Strawberry Woman
Tömörítés/Bitrate: 160 kb/s
Letöltés/Download
Jelszó/Password: levente