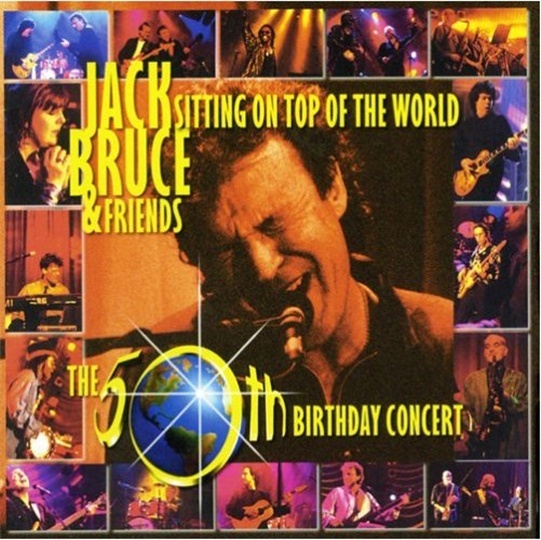 A Cream legendás skót basszusgitáros-énekese 1993-ban ünnepelte 50. születésnapját. Ebből az alkalomból barátaival egy laza örömkoncertet adtak.
A koncert résztvevői: Gary Moore (vocals, guitar); Jack Bruce (vocals, piano, bass guitar); Pete Brown , Gary "Mudbone" Cooper, Maggie Reilly (vocals); Clem Clempson (guitar); Malcolm Bruce (acoustic guitar); Dick Heckstall-Smith, Art Themen (saxophone); Henry Lowther (trumpet); John Mumford (trombone); Gary Husband, Jonas Bruce (piano); Bernie Worrell (Hammond b-3 organ); Francois Garny (bass guitar); Ginger Baker, Simon Phillips (drums).


A címadó dal, igaz nem ezen a koncerten:




A felvételek:
01. Can You Follow? - 1:58
02. Over the Cliff - 3:47
03. First Time I Meet the Blues - 4:39
04. Neighbor, Neighbor - 5:39
05. Ships in the Night - 5:02
06. Born Under a Bad Sign - 6:11
07. The from an Imaginary Western - 5:55
08. NSU - 6:28
09. Sitting on Top of the World - 6:51
10. Politican - 5:39
11. Spoonful - 9:13
12. Shunsine of Your Love - 8:11
Tömörítés/Bitrate: 320 kb/s
Letöltés/Download:
[ Uploaded Part1 Part2 ]
[ Ziddu Part1 Part2 ]
Jelszó/Password: levente
A Decca lemezgyár stúdiójában 1968. áprilisában készült felvételeket tartalmazó album Mayall talán egyik legjobb, egyben legkevésbé ismert nagylemeze.
A csapat: John Mayall & The Bluesbreakers: John Mayall (vocals, harmonica, piano, harpsichord, organ, harmonium, guitar); Mick Taylor (guitar, Hawaiian guitar); Henry Lowther (violin, cornet); Dick Heckstall-Smith (soprano & tenor saxophones); Chris Mercer (tenor & baritone saxophones); Tony Reeves (acoustic & electric basses); Jon Hiseman (drums, percussion).
Nem akármilyen felállás!
A számok:
01-Bare Wires - Suite
a.Where Did I Belong
b.I Started Walking
c.Fire
d.Open Up A New Door
e.I Know Now
f.Look In The Mirror
02-I'm A Stranger
03-No Reply
04-Hartley Quits
05-Killing Time
06-She's Too Young
07-Sandy
Tömörítés/Bitrate: 320 kb/s

Letöltés/Download: [ Gigasize ] [ Speedshare ]


Jelszó/Password: levente