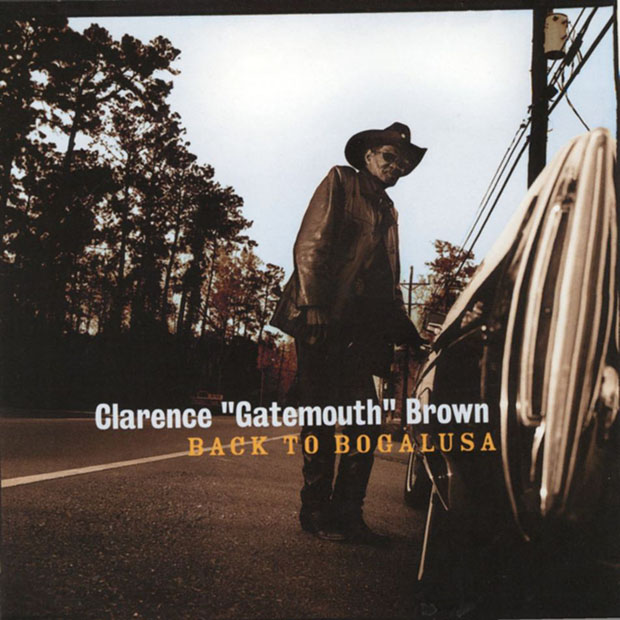 A lemez fevételei Louisiana állam Bogalusa városának Studio In The Country stúdiójában készültek. A felvételeken hallható zenészek: Clarence "Gatemouth" Brown (vocals, guitar, fiddle, viola); Mike Loudermilk (acoustic & electric guitars); Sonny Landreth (slide guitar); Zachary Richards (accordion); Eric Demmer (alto, tenor & baritone saxophone); Brent Rose (tenor saxophone); Barney Floyd (trumpet); Brian O'Neill (trombone); Joe Krown (piano, Wurlitzer piano, Hammond B-3 organ); Harold Floyd, David Hyde (bass); David Peters (drums, congas, quika drum, percussion); Pat Bickham, Renee Brown, Gene Gunulfsen, Mike Pace (background vocals).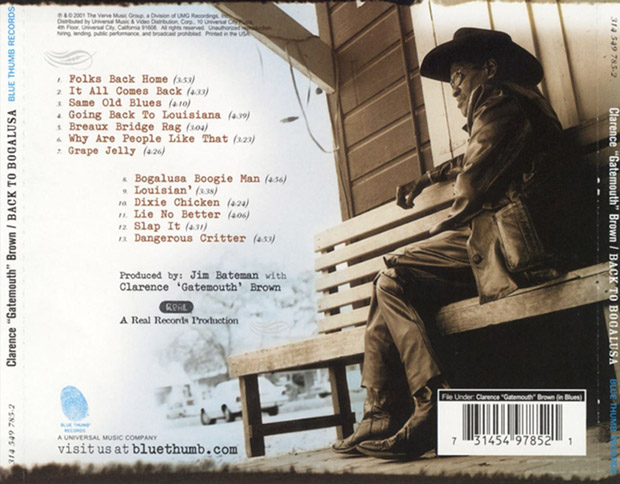 A számok:
1.Folks Back Home (3:53)
2.It All Comes Back (4:33)
3.Same Old Blues (4:11)
4.Going Back to Louisiana (4:40)
5.Breaux Bridge Rag (3:05)
6.Why Are People Like That (3:23)
.Grape Jelly (4:27)
8.Bogalusa Boogie Man (4:57)
9.Louisian' (3:38)
10.Dixie Chicken (4:26)
11.Lie No Better (4:07)
12.Slap It (4:33)
13.Dangerous Critter (4:53)
Tömörítés/Bitrate: 320 kb/s
Letöltés/Download:
[ Share-now Part1 Part2 ]
[ Data Part1 Part2 ]
Jelszó/Password: levente
Az 1924. április 18-án a louisianai Vintonban született Clarence Brown gitáron, hegedűn, mandolinon, szájharmonikán, zongorán és ütőhangszereken játszott és énekelt, a blues-on kívül szinte minden Louisiana-ban otthonos műfajban - jazz, bluegrass, zydeco, cajun és calypso - is.
Az amerikai zenei élet fáradhatatlan munkása 2005-ben hunyt el.
A számok:
1. Here Am I
2. Tippin' In
3. Song For Renee (Gate's Tune)
4. When My Blue Moon Turns To Gold Again
5. Street Corner
6. Pressure Cooker
7. Chickenshift
8. Blackjack
9. Honey Boy
10. Take Me Back To Tulsa
11. Dark End Of The Hallway
12. Up Jump The Devil
Tömörítés/Bitrate: 320 kb/s
Letöltés/Download:
[ 1-click-upload ]
[ Uploadarea ]
Jelszó/Password: levente