1980-ban megjelent Knopflerék harmadik stúdióalbuma,
Making Movies
címmel. A Billboard nagylemezlistáján a 19., a brit albumlistán a 4. helyen végzett. A Rolling Stone magazin
100 Best Albums of 80's
listáján az 52. helyet szerezte meg.
A számok:
1. Tunnel of Love – 8:08
2. Romeo and Juliet – 5:54
3. Skateaway – 6:18
4. Expresso Love – 5:04
5. Hand in Hand – 4:48
6. Solid Rock – 3:19
7. Les Boys – 4:07
Tömörítés/Bitrate: 320 kb/s
Letöltés/Download:

[ Rapidshare ]
[ Webfilehosting ]
Jelszó/Password: levente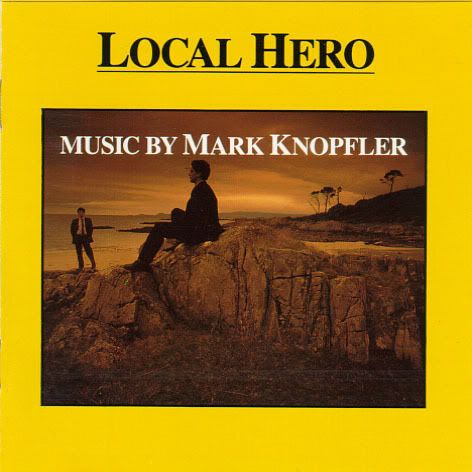 Bill Forsyth angol renddező filmjét nálunk
Porunk hőse
címmel vetítették. Felix Happer texasi olajmágnás (Burt Lancaster) egy kis skóciai halászfalu, Fernesse határában készül olajfinomítót építeni. Megbízza beosztottját, MacIntyret, hogy vásárolja meg az ehhez szükséges földet, de annak annyira megtetszik a szépséges vidék nyugalma, hogy az ügy nem igazán megy előre.
Mr. Happer, hogy dűlőre vigye a dolgot, Fernesse-be repül,
de a természet és a falusi élet bája őt is rabul ejti. Az olajfinomító természetesen nem épül meg, és a rideg skót táj érintetlenül megmarad.
A zene pedig nagyon hangulatos. A Dire Straits 1985-ös Budapesti koncertjén vörösre tapsoltuk a kezünk a filmzene főtémája eljátszása után.
A film zenéje:
1.Rocks and the Water (3:30)
2.Wild Theme (3:38)
3.Freeway Flyer (1:47)
4.Boomtown (Version) (4:06)
5.Way It Always Starts (4:00)
6.Rocks and the Thunder (:45)
7.Ceilidh and the Northern Lights (3:57)
8.Mist Covered Mountains (5:13)
9.Ceilidh: Louis' Favourite Billy's Tune (3:57)
10.Whistle Theme (:51)
11.Smooching (4:58)
12.Stargazer (1:31)
13.Rocks and the Thunder (:40)
14.Going Home (Theme of the Local Hero) (4:55)
Tömörítés/Bitrate: 320 kb/s
Letöltés/Download:
[ Rapidshare ] [ File2You ]
Jelszó/Password: levente
A Dire Straits második albuma 1979-ben jelent meg. Beharangozóként a Lady Writer kislemezen is piacra került.
A számok:
1. Once upon a Time in the West
2. News
3. Where Do You Think You're Going?
4. Communiqué
5. Lady Writer
6. Angel of Mercy
7. Portobello Belle
8. Single-Handed Sailor
9. Follow Me Home
Tömörítés/Bitrate: 320 kb/s
Letöltés/Download:
Divshare
Furk.net part1
part2
part3
Jelszó/Password: levente
A Knöpfler család az 1930-as években vándorolt ki Angliába, s Londonban, a Portobello Road-on béreltek lakást. Fiuk József két gyermekét, az 1949-ben született Márkot, és az 1952-es Dávidot már nem is tanította meg magyarul. Időközben nevükben az ott elég kényelmetlen ö betű o-vá korcsosult, s Mark már angolként szerzett angoltanári diplomát. A hetvenes években a tanítás mellett hobbiból dél-londoni pubokban gitározgatott, majd 1977-ben öccsével és a basszusgitáros John Illsley-vel megalapították a
Dire Straits
együttest. Első, 1978-ban megjelent cím nélküli lemezük több mint egymillió példányban fogyott, s a zenekar - elsősorban Márk gitárjátékának köszönhetően - a rockzene élvonalába került.
Sultans of Swings





A számok:
1. Down to the Waterline
2. Water of Love
3. Setting Me Up
4. Six Blade Knife
5. Southbound Again
6. Sultans of Swing
7. In The Gallery
8. Wild West End
9. Lions
Tömörítés/Bitrate: 320 kb/s
Letöltés/Download:
[ Uploaded.to ]

Jelszó/Password: levente